For all love birds who are head over heels for each other, one month's anniversary is a big milestone. If you are one of those fortunate couples looking for unique and creative 1-month anniversary gift ideas, we are here with some cool choices.
You need something that will woo your partner, a gift that is sweet and romantic enough to sweep her off her feet, it can be a grand gesture, or it can be something purely sentimental, one that your partner will hold close to their heart all their life.
However, before deciding on the best gift to give your partner on the first month's anniversary, you should consider the following points.
You have been crazy in love with your partner for one whole month. You may or may not have proposed to them or been married to them for an entire month. There is a lot of communication in the first few months of the relationship. You follow each other like a love-struck teenager; this means you know all their likes and dislikes. So, when choosing the anniversary gift, keep the likes and dislikes in mind.
The budget should also be a consideration, don't break your bank while buying the gift because a good anniversary is followed by a dinner or movie date, so you might want to consider that too.
The gift should always match the personality and style of your partner. Don't go for a loud and flashy gift if you know your partner has a sober and subtle style.
Relationship status, whether you are married, engaged, or courting your partner, the relationship status matters when you are buying the 1st month's anniversary present.
If you are buying online, you might want to consider the timeline and order at least two weeks before the date to get the gift delivered in time.
Now, it's time for the actual list; here are the best 1-month anniversary gift ideas for the love of your life.
1. Half Heart Mug Set
Now, this one is a keeper; the half-heart mug set is the coolest first-month anniversary gift ever. And there are so many reasons why. The first one, it's a hit because a mug works regardless of the beverage your partner takes for their breakfast. So, whether it's tea, coffee, or green tea, the mug will always be useful.
Since it comes in pairs, you will each have one, isn't that sweet? Moreover, every morning, this cute little mug will remind your partner of your beautiful gesture.
2. Personalized Photo Collage Present
It's the era of capturing every cute moment, and for our generation, it's one of the best things. Whether you are a social media person or not, we are sure you have a ton of memories captured on your phone of the 1st month you have been together.
Use these to create a beautiful and custom collage, blow it up and make a grand gesture at your 1st month's anniversary. This gift will be a hit because you both can walk down memory lane together and live all the sweet moments again. Make sure you choose the best pictures that depict the happiest moments you have spent together in the 1st month of your relationship.
3. Star Map Acrylic Plaque
A star map freezes the time when you met your partner. It's the perfect gift to give when you are celebrating your first month together. This gift shows that you love the moment you two met, how it changed your life for the best and how you paid attention to remember the date and time of that moment.
The map captures how the sky and the stars looked with all their glory the night you two met. It's a beautiful gift that signifies how important your partner is to you.
4. Custom Keychain
Custom keychains are the best gifts for all milestones. You can do a lot with custom keychains. However, for the first month anniversary, we suggest you add a date calendar of when you guys started dating or the first time you met your partner.
These memories are what make our life beautiful. Capturing such memories in the best way possible is how one should celebrate milestones. You can also add a nice quote, a song, or a selfie of you and your partner on the keychain if you like. Or you can also get your fingerprint etched on the keychain for your partner. Get a new set of keys and surprise your partner with the most thoughtful gift for your 1-month anniversary.
5. Personalized Love Song Plaque
If you guys have a favorite song that is YOUR song as a couple, get that printed on a Personalized Love Song Plaque. As a couple, the memories you make together make the best anniversary gifts ever. So, use your memories to give your loved one unique and mesmerizing gifts they will cherish their whole lives.
Apart from the song name, you can also add your picture and the song's lyrics on the plaque. This will make the perfect decor piece in your new home as a couple when you get married or move in together.
6. To The Moon And Back Blanket
As a couple, one spends many nights tucked in cozy under one plush blanket; if you are the same, you need to get your partner the "To The Moon And Back Blanket." A personalized blanket is an ideal way to tell your partner how much you love their warm cuddles.
A personalized blanket is also a good one for when you guys are watching a movie together on a cold night. This gift will keep things nice and warm for the two of you. It will also be the best hugging companion when you are away.
7. 1 Month Anniversary Pillow
Small milestones need to be celebrated, not because you need to make memories, but because they make your partner immensely happy. With the 1st month anniversary, you aren't just celebrating a day; you are also celebrating the person you love and the bond you both have.
So, don't just choose any gift; choose one that translates your love, like a custom 1 Month Anniversary Pillow. This pillow can have your picture, your partner's favorite quote from their fandom, or a song that's close to their heart. Such a pillow will always remind them of you when they sit to relax at the end of a hard day. They can also hug this pillow tight when they miss you or think of you.
8. 1st Month Together Candle Holder
Candles are the best gift, mainly because they make the house smell great. Moreover, they are perfect for setting up a romantic scene to take things a little further with your partner.
For someone who loves nice fragrances, this is the perfect gift. However, a simple candle can be ordinary, so let's make yours a little extraordinary by adding a custom sticker to it. You can add anything to this sticker, the date and day you met, the date and day you proposed, or even your partner's favorite song. The inspirations for this are endless.
Apart from that, a scented candle is a perfect way to tell your partner that you know their choices and pay attention to their likes and dislikes. And if you met your partner online, you can even get the "Best thing on the internet" sticker on your candle.
9. Handmade Pop-Up Photo Box
Whether you make these yourself or order them online, these unique Handmade Pop-Up Photo Boxes are the perfect anniversary gifts. Relive all your beautiful moments together with your partner through this beautiful gift. This is the perfect keepsake of your relationship. You can keep adding to this as months and years go by.
10. Couple Bracelets
For couples who are joined at hips, we have just the perfect gift for your 1st month anniversary, Couple Bracelets. These bracelets have a broken heart in the middle that becomes whole when your hands meet. Isn't this just the perfect thing to give your partner on your 1st month's anniversary?
Apart from being cute, this is also a practical gift, for these bracelets are unisex, so both of you can get and wear them without compromising your style. You can get them in various colors and styles; they also suit almost all types of couples.
11. Anniversary Date Necklace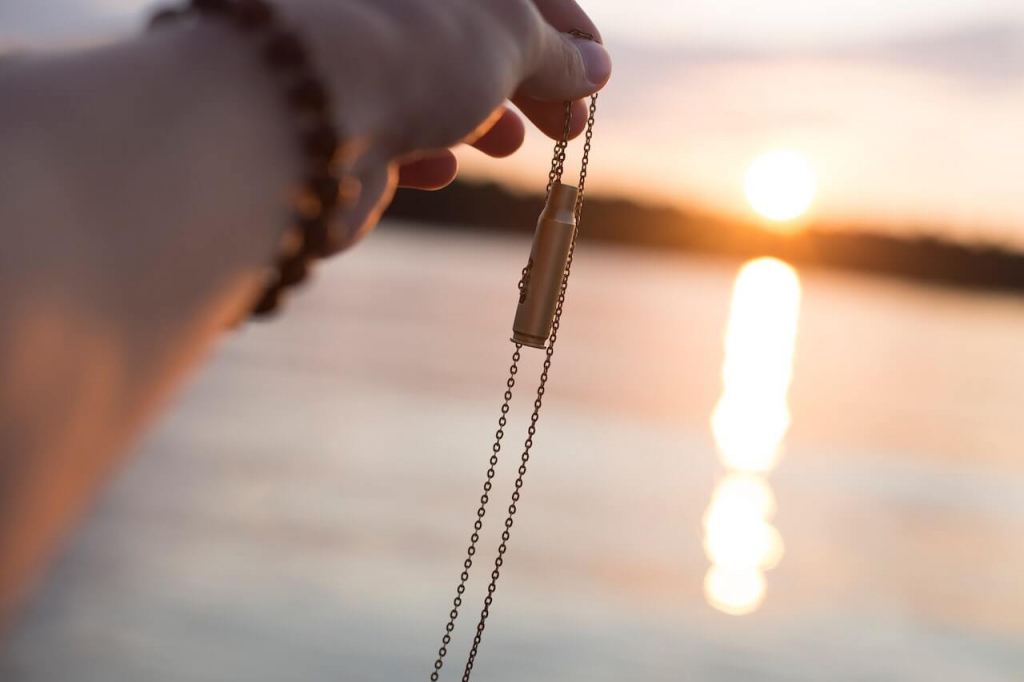 If you know your partner loves accessories, you need to get them a personalized Anniversary Date Necklace. This can have your picture, the date, and the day you met. It can also have the star map of the time you guys fell in love or the time you proposed to your partner. The possibilities are endless, which also makes it such a beautiful present.
12. Signed Favorite Book
If you are dating a bookworm, this is your best chance to impress her. Get her favorite author to sign her a copy of their novel and present that to her as the 1st month's anniversary gift. You can bet this would be the best gift for a bookworm; you will get extra brownie points for this gift more than any other gift.
Books are always the safest bet for any bookworm, and you have a clear winner if it's a signed copy from their favorite author.
13. Favorite Scent/Perfume
How do you tell your partner that you know their likes and dislikes and that you have paid attention to them without using words? By giving them gifts that relate to them, like their favorite perfume.
14. Coffee Beans Basket
Knowing your partner's favorite things is how you can make their gifts extra special. If you are thinking about a custom basket, how about adding coffee beans they love to the basket? This can be the perfect gift for a coffee lover.
You can switch the contents as per your partner's liking, like chocolates, tea bags, snacks, or anything they like. A custom basket of the things they love is a cool gift to send on your 1st month's anniversary.
15. Giant Teddy Bear
If you are thinking of surprising your partner for your 1-month anniversary with a grand gesture, you should consider getting her a giant 6-feet teddy bear. Girls love stuffed animals and grand gestures; put them together, and there is nothing better than a giant plush teddy bear.
Pair your teddy with a bunch of flowers and some chocolates to make the gift even more special. You can get it delivered to their place or pay them a surprise visit taking your gift with you to present to them in person.
16. DIY Plaster Statue Molding Kit-Perfect DIY gifts
DIY gifts are the best, mostly because they take more effort than money. And more effort means more love and care. Our DIY Plaster Statue Molding Kit is the best anniversary gift ever. It also makes for the perfect couple's keepsake ever.
A beautiful statue of your hands held tightly together is the perfect anniversary gift, and the best part is that you can get this kit delivered and do the experiment yourself. It's pretty easy to set up, and there is a very low probability of any mistakes. So, this is a safe bet.
17. Engraved Watches
Watches are the perfect gift as they remind you of the good times and send hope for a better time yet to come. Adding an engraved message at the back can make this beautiful gift even more special. A simple XOXO with your name and the date when you met your precious partner will be enough to make them happy.
Conclusion
Celebrating small as well as big milestones is a way of showing love and care toward your partner. Such celebrations strengthen the bond between partners; they also make for the most beautiful memories—more than the gift itself, the gesture of your love matters. So, ensure there is always a small surprise ready for your partner to celebrate even the smallest of the milestones you cross as a couple.