| | |
| --- | --- |
| Category | Rating |
| Popularity | |
| Quality Matches | |
| Ease of Use | |
| Value of Money | |
| Overall | |
Dating is hard; finding love in today's time isn't a piece of cake. If you have a High School sweetheart, hold on to them or enter the labyrinth of online dating sites. Online dating platforms have become a source of hooking people up with their future partners.
You will find all kinds of dating sites online that cater to all your relationship needs. Whether you are looking for a casual relationship, a one-night stand, or a serious relationship, these websites will not disappoint.
One of these online dating platforms is eharmony—one of the biggest sites you can find if you want to fall in love and marry. The website is famous for delivering if you are serious enough to follow through. Here's a full-blown review of eHarmony that will help you decide whether it's for you.
---
What is eharmony All About?
eharmony is a top-notch dating site that has helped more than 2 million lost souls find their true love online. The site is so popular that around 2.3 million messages are sent weekly among active users.
eHarmony does its best to match you with your most compatible match, and you can take it further with your impressive online persona. The Personality Profile system and compatibility quiz ensure you are matched with like-minded people so you can hit it off instantly.
The compatibility quiz is 80-questions long and makes sure it collects all the information needed to match you with your potential better half. It claims to be the first site to do so; the rest followed a proprietary matching system later on. Even with high competition, eHarmony remains on top for singles to find their perfect match for happy matrimony.
Leading psychologists have designed the compatibility quiz, and this is the reason for its unmatched success.
Data Base
As the dating industry giant, eHarmony has a database sufficient to cater to its paid members. With a massive database, all kinds of people log on to the site from around the world.
Besides a huge database, the site welcomes all Jewish, Christian, Muslim, black, Asian, Caucasian, straight, or LGBTQ. However, the site isn't for casual hookups. eHarmony was marketed as a site where you find your match for matrimony, so it attracts singles looking to fall in love and marry. The average age of active eHarmony users is 30 or above.
Who Should Be On It
Every dating website is niche based. They marketed themselves by keeping a specific category of people. eHarmony caters to categories. These are
People looking for soul mates and committed relationships.
Separated and divorced couples looking for their second chance at happiness.
40 and 50-plus seniors looking for matrimony.
People who are solely interested in marriage.
Parents looking for their kids.
Exclusive dating for serious partners.
Who Shouldn't Be on It?
Not every dating site is for everyone. So, there are a few categories eharmony doesn't cater to, like:
People looking for casual encounters
People looking for short-term relationships
People looking for hookups and sexual pleasures
Cheap free daters
People looking for easy signup and simple profile app
Married folks looking for sexual partners
What Makes eharmony Different?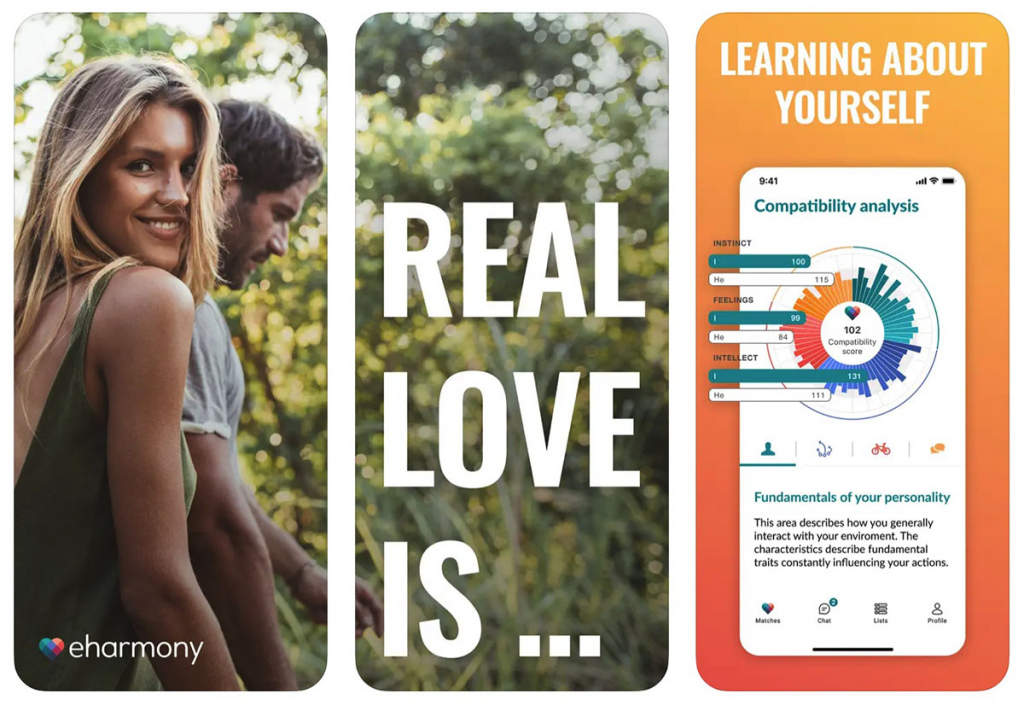 Dating sites are a dime a dozen, so what makes eharmony different and a success? Well, the easiest answer is that eharmony does the matching for you; you don't have to seek partners on your own. With the 80-questions compatibility quiz, you can rest assured that the site will seek out the best partner for you.
The site gets information about your communication, likes, dislikes, motivations, and behavioral insights. And according to that insight, you get the ideal match for you.
Apart from that, the compatibility quiz also gets you a compatibility score. The score goes from 60 to 140. It tells your match how compatible you are with them. 100 is good compatibility. Anything lower is not a good match.
eharmony has a brilliant success rate. The site has been going strong since its launch in 2000. It has found a match for more than two million people from around 125 countries.
User Experience
Every dating site is loved or hated as per its user experience. Most people aren't fans of sites like Tinder and OkCupid due to their chaotic interface. However, eharmony is a different breed altogether.
eharmony offers a basic and free membership that allows you to send and receive smilies; you can also use icebreakers. The free version also gets you unlimited matches and anonymous browsing. You can also respond to one message if you are on the free version.
Once you upgrade to the premium version, you can explore all the features of eharmony, including unlimited matches and messages.
It is the best way to get your match interested in you. Paid membership also lets you see all photos of your match. To video chat with your match, you will need to get to a certain level with chatting. eharmony isn't for the casual daters; the hot-or-not swiping doesn't work here. eharmony is there to help you make real connections.
Pricing of eharmony
The pricing of eharmony is easy to understand and upfront. There are no hidden charges. However, there have been complaints about refunds and hard-to-cancel memberships. The pricing of basic and premium membership is as follows.
| | | |
| --- | --- | --- |
| Plan | Monthly Cost | Total Cost |
| Light | $59.90 | $59.90 |
| Plus | $39.90 | $478.8 |
| Extra | $29.90 | $717.6 |
The Basic or Free Membership
The free signup or membership only gets you so far. You can take the compatibility quiz while staying on basic membership, but that's about it. When you start getting matches according to your quiz, you get only the most basic information and a blurred picture of your match.
You can also send icebreakers and smilies to your match, but that's about it. There is also the 1st message from your match that you can reply to without any charge.
The Premium Membership
Apart from the basic membership, eharmony also has three premium membership tiers. The first is premium light. It starts at $59.90/month, but you have to sign up for six months. The second tier is premium plus that's for $39.90/month, and you sign up for 12 months. Premium Plus is the most popular plan among users. There is also the premium extra plan that is $29.90/month for 24 months.
All the premium plans are the same as the features you get. The cost changes according to the months you sign up for. The longer you sign up, the less you pay. Apart from the regular costs, there are also sales and special offers that you can avail of if you want eHarmony on a budget.
Security
More than anything, eharmony stands out for its security check. The site will verify your pictures and run a background check to see if you are a scammer, fraud or catfisher. Your account will get rejected if the picture is fake or someone else's.
Not only that but you will also have to check in with a verified number. If the number matches your profile, only then you will be able to enter the heaven of eharmony. The number verification is a big deal for scammers. Hence eHarmony boasts of no scammers in their database.
Success Rate
If you are looking for a serious connection of matrimony, eharmony is your safest bet. The reason why eharmony is famous among serious daters is proof in numbers. The success stories are unbiased and plenty.
And this isn't just an ordinary review; according to researchers at the University of Chicago and Harvard, eharmony has the highest marriage rate and the lowest divorce rate. These phenomenal results are due to the compatibility test. It's practical and gets you unmatched results.
The Benefits Of Signing Up with eHarmony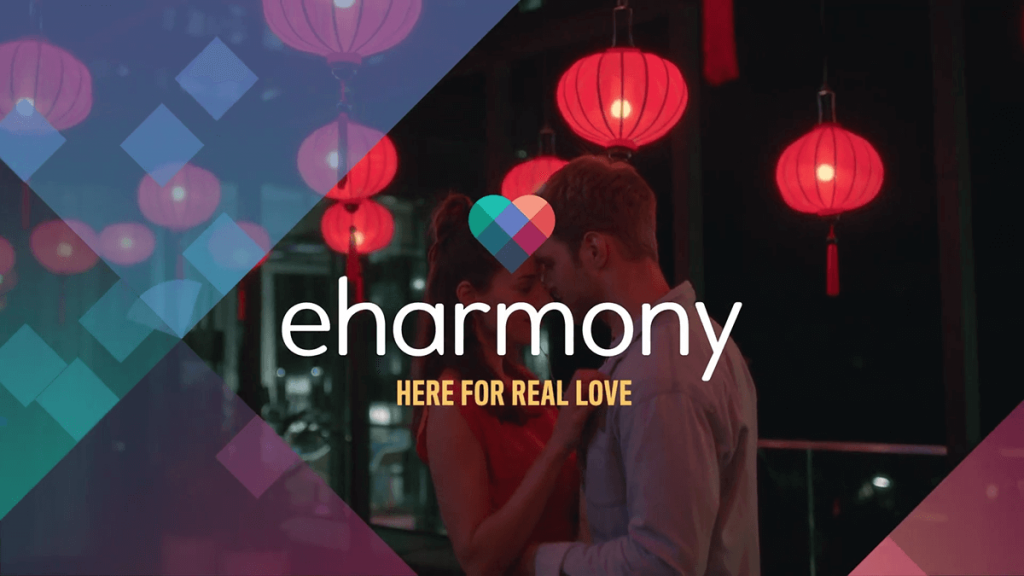 Eharmony is worth the money since it delivers what it promises when you sign up. There are many benefits that you can reap when you sign up for a premium account on eharmony.
Compatible Match
We keep singing the praises of the compatibility quiz, and for a good reason. The quiz is meant to get the real you out and understand your personality so you can be matched with just the right people.
This is the main USP of the site. Moreover, the swipe left and right kind of apps aren't made to find you a soulmate. The long compatibility quiz of eharmony is designed to find you the match you will instantly fall in love with.
Serious Daters
The one big benefit of signing up with eharmony is the kind of users it attracts. You will hardly find scammers, sexual predators or people looking for a casual fling. eharmony has marketed itself as a serious dater's hub. You will only find serious and commitment-ready users at eharmony.
Not only are the users looking for long and serious relationships, but they are also looking for their soulmates to marry. You will find more singles looking for committed relationships, divorced and separated looking for a second chance in life, as well as 50-plus men and women for their second round of happiness.
Added Security
Data leaks are inevitable when you sign up for shady websites. However, eharmony isn't like that. It has a verification system that weeds out scammers, catfishers as well as frauds. The state-of-the-art ID verification ensures you connect with people looking for real connections.
Besides that, the security team at the eharmony keeps a close eye on member activities. They routinely band and close accounts of misbehaviour, abuse and any kind of wrongdoing that is reported by any member. Apart from that, face and inactive accounts are also banned and closed. So you only get real people, active users, as well as serious daters when you log in.
Video Dating
Every feature of eharmony is designed to cater for the needs of the user. All features are also designed in a way that they are both secure and beneficial for the users. The same is true for video chatting or video dating. No user can video chat unless they have exchanged a few chats with their match.
Not only can you video chat, but you can also video date from a distance. This is a cool way of getting to know your match from the comfort of your home. It also helps you understand them better and reduces the first-time meeting awkwardness.
Cons
eharmony may be the ideal dating site for serious daters, but there are still some concerns that new users should know about. Here are the cons of signing up with eharmony.
Unless you sign up and take the compatibility quiz, you won't know about the pricing and cost of a premium membership.
There is no point in using the free or basic membership, as all features are locked until your signup for a premium membership.
Although they have a refund and cancellation policy, it's tough to get either.
Customer care has a lot of procedures.
There are very few options for LGBTQ+ singles.
It's not for casual daters.
Best eharmony Alternatives for Real Relationships
FAQs About eharmony
Here are some of the frequently asked questions about eharmony.
How easy or hard is the compatibility quiz?
The quiz is easy; however, it's pretty lengthy. It can take you 20 to 30 minutes if you sit to work on it with all your focus. Here are some of the questions you may encounter.
Do you get mood swings?
What is your sleep pattern?
How big are you on financial stability?
What are your thoughts on having kids?
Who are you most attracted to?
How much do you like to spend time with yourself?
Is eharmony free?
Yes, there is a free version that you can use. You can take the quiz, see your matches and send them virtual gifts and smilies.
What features unlock when you get the premium version?
Well, you get a lot of benefits when you get the premium subscription, like,
Unlimited messaging
Enhanced searching
You can check out unlimited photos
You can also see who has visited your profile
Access to Video Dating feature
Conclusion
All in all, eharmony is worth putting money in. You can enjoy the many perks it offers and find true love. Online dating is never easy, but if you want to make it fun and lasting, eharmony is where you should be.